Founded in 1984, Chroma ATE Inc. is a world leading supplier of precision test and measurement instrumentation, automated test systems, intelligent manufacturing systems, and test & automation turnkey solutions marketed globally under the brand name "Chroma".


Significant markets Chroma serves include electric vehicle, green battery, semiconductor, photonics, LED, photovoltaic, flat panel display, video and color, power electronics, passive component, electrical safety, thermoelectric, automated optical inspection, and intelligent manufacturing system for ICT, clean technology, and smart factory industries.


Chroma's vision is to develop globally leading products as a world-class enterprise. To achieve this, Chroma devotes a significant amount of investment and resources in research and development in order to produce exceptional products of precision, reliability and valuable unique test solutions for technology industries. To prevail as a world-class enterprise, Chroma nurtures its brand as one of innovation, continuous improvement, and globalization ensuring its leading technology and integration capabilities in optics, mechanics, electronics, thermal control and software. Chroma so sustains its competitive advantages and future growth.


Chroma has branch offices in Europe, the United States, Japan, Korea, China, and Southeast Asia chartered to deliver innovative technologies with high value-added service to satisfy our global customers' demands.
0
Number of Employee (2020)
0
2020 Consolidated Revenue (NTD, Billion)
0
2020 Paid-in Capital (NTD, Billion)
Developing Global Leading Products and Becoming a World-Class Enterprise
Precision

"Chroma" Brand
Uniqueness

Innovative Technology
Reliability

Globalization
Number

(Kilometers, meters, feet, grams, units, sets)

Revenue

(Thousands of NTD)

Test and Measurement instruments

Automated transportation equipment
Ratio of Local and Overseas Distribution for Chroma in 2020
| | Revenue (Thousandsof NTD) | Percentage of net operating revenue |
| --- | --- | --- |
| | | |
| | | |
Chroma Global Operating Locations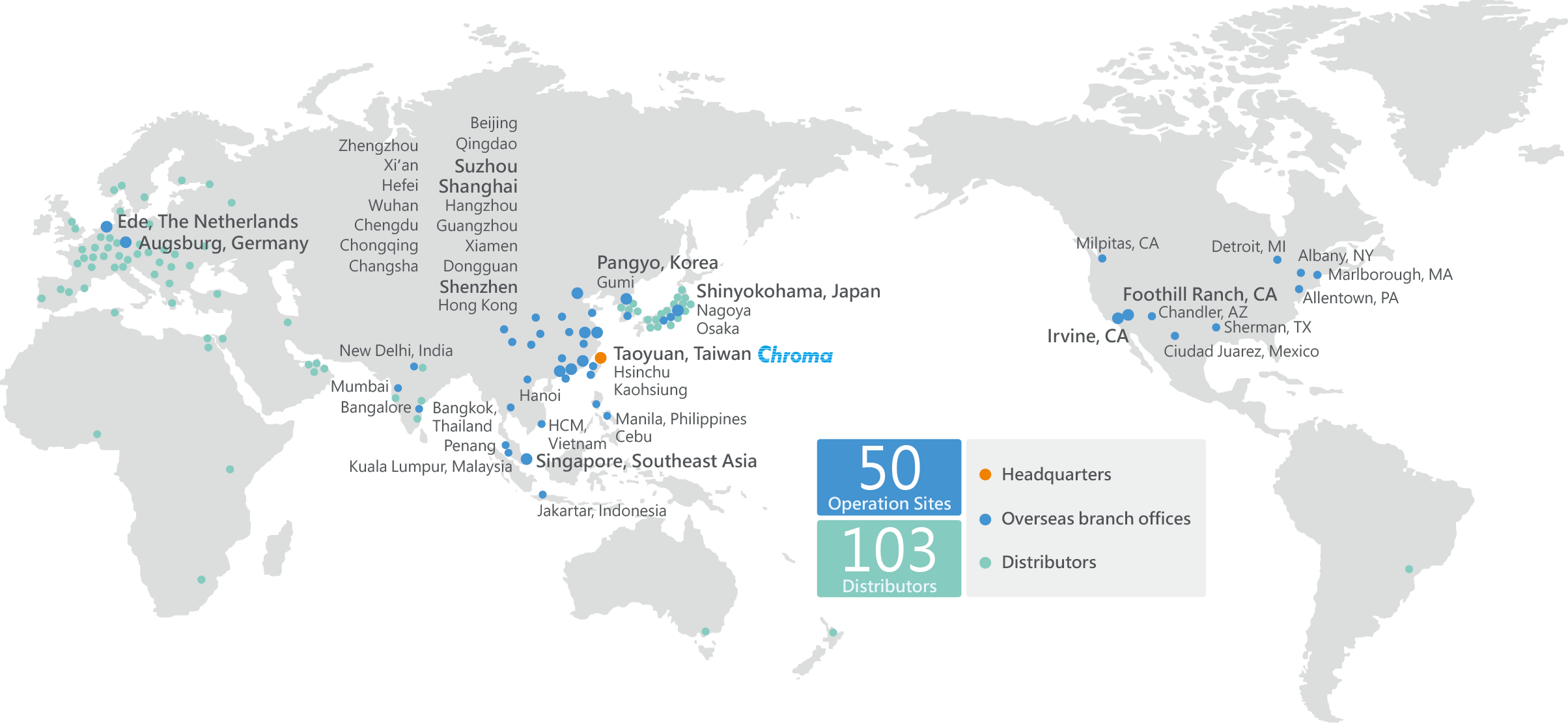 Driving Innovation to Success
Chroma stays ahead of emerging technologies and provides innovative test & automation turnkey solutions for customers to ensure the performance, quality, and success of their products.